May 30, 2020 8am-3:30pm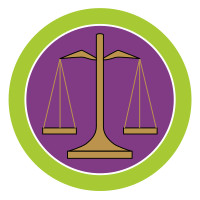 In celebration of Law Day 2020, the Brevard County Bar Association unveils a new and exciting outreach event. On May 30, 2020, at the Moore Justice Center, the Brevard County Bar Association is hosting a Law Day merit badge program at which scouts can earn their Scouts, BSA fingerprinting and law merit badges. This is a unique opportunity for scouts to meet those who work in the legal field, participate in a mock trial and learn how law and the legal process protect our liberty, strive to achieve justice, and contribute to the freedoms that all Americans share. Parents are invited to attend.
Every scout must register to attend. Registration is limited for this event, and is on a first-come, first-served basis. Once capacity is reached, registration will be closed. Early registration is encouraged to avoid disappointment. For any specific questions or concerns, you may contact Ashley Hardee at (321)617-7328 or by e-mail: ashley.hardee@flcourts18.org.
All scouts should wear Class A uniforms, arrive at 8:00 AM for check-in at the front door of the Viera courthouse, and have already eaten breakfast. There is no fee to attend the Law Day Merit Badge Program. Knives or other items prohibited in a courthouse shall not be brought and everyone in attendance will go through courthouse security. A lunch with bottled water will be provided at noon at no cost to the scout. Pick-up is at 3:30 PM sharp.
Please click on the links below to print the Registration Form and the Agreement for use of Likeness in Audio/Visual form.
Registration forms should be mailed no later than May 1, 2020 to:
E. Ashley Hardee, Esq.
Sr. Trial Court Staff Attorney
4th Floor
Moore Justice Center
2825 Judge Fran Jamieson Way
Viera, FL 32940